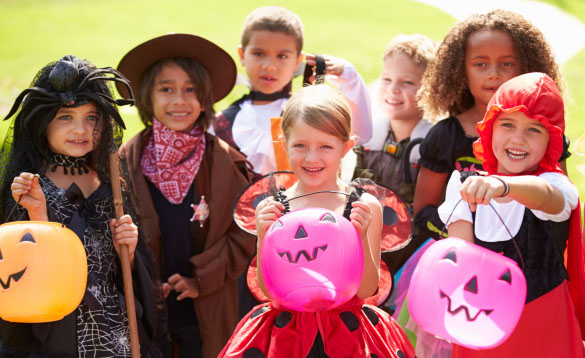 Keep Your Children Safe this Halloween in Chicago
Halloween can be a special time for many families. Your children are excited to get out there and spend time in their fun costumes and get all the candy. But parents need to use caution to make sure that their children are safe.
There are several steps that you can use to keep your children safe this Halloween. We will take a look at them below.
Halloween Safety Tips for Your Children
As a parent, you want to make sure that your children are able to have a ton of fun when they hit the streets and get some of the candy that they need. But you also want to make sure that your children will be safe.
We want to make sure it's all treats and absolutely no tricks this Halloween season. Alzein Pediatrics offers this advice to keep your children safe this Halloween:
• Use face paint or makeup instead of masks to keep your child's vision clear and unobstructed. This can also help with breathing for some children if the mask doesn't fit.
• Make sure any costume robe, dress or fringe ends above their ankles to prevent falls. Hem up the outfit to make sure that it fits.
• Put your child in comfortable, well-fitting athletic shoes to prevent tripping and accidents. Even if the outfit has some special shoes that it suggests your child wears, it is better to go with comfortable shoes they won't trip in.
• Add light reflective tape and stickers to costumes. You can get some neat looking stickers to add to the outfit to enhance it, rather than taking away from it.
• Children under 12 should be supervised by an adult. You should recommend that even children of this age will go in a group to help keep them safe during Halloween.
• Children mature enough to trick-or-treat without an adult should form groups of at least three and have a "buddy".
• Trick-or-treaters should stay in familiar neighborhoods and stick to well-lit streets.
• Stay on sidewalks and cross only at corners, looking left, right and left again.
• Make eye contact with drivers before you cross.
• Give your child a flashlight, whether you are with him or not.
• Put that cell phone away to concentrate on walking safely, but keep it within easy reach.
• Check with your village or town for trick-or-treating hours and stay within them.
• Look through your child's bag before they eat anything, checking for torn, damaged or old wrappers.
• Set restrictions ahead of time about your child's candy consumption. Consider asking your child to donate at least half of their candy to a shelter or soup kitchen.
• Think about alternatives to candy for your visitors. Pencils, erasers, stickers, temporary tattoos, and whistles make great candy substitutes.
Being safe and healthy at Halloween means the holiday will be happy and fun – all night long! By following some of the tips above, you can keep your children safe this Halloween, no matter how much candy they get.
Keep Your Children Safe This Halloween in Chicago
Halloween is meant to be a fun time for all families. It allows you a chance to get out and dress up, whether you do it as a family or not. But when Halloween is over, you still need to take care of the health of your child.
At Alzein Pediatrics, we are here to provide you with some of the best care for your child, all the way until they are 26 years old. We can provide comprehensive care from well-child checkups to immunizations and everything else in between. Contact us today to set up your appointment!