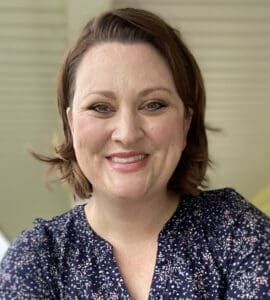 Angela Boomsma, APRN, MSN, FNP-BC, CPNP-AC, CPN, and CLC, (yes, really!)  is already making a great impression on our patients when they visit Urgent Care. Recently, we heard, "My son wasn't feeling well, but Angela had him laughing throughout the visit." We know that, sometimes, laughter can be the best medicine.
Angela isn't all giggles, though. She is our Urgent Care advanced practice nurse practitioner and comes to Alzein Pediatrics after years of wide-ranging experience. Angela has cared for pediatric patients as a nurse for over thirteen years and as a nurse practitioner for seven, both in private practice and in area hospitals.
She is a double board certified nurse practitioner in both family medicine and acute care pediatrics. She is also a certified pediatric nurse and a certified lactation counselor.
Angela is devoted to caring for children with chronic diseases and medical complexities as well as caring for children who are acutely ill. Angela performs simple outpatient procedures with expertise, knowledge, and deep compassion for her young patients.
Angela loves to travel, especially for medical mission trips. She is fluent in Spanish and loves to take continuing education courses.
When your family comes to Urgent Care, ask Angela about her rescue dog Penny and tell her about your pets. Your children will also enjoy Angela's love of celebrations in frequent decorations and themes in our Urgent Care.
Get an Appointment For Your Child With Doctor Angela Boomsma in Chicago
Please join us in welcoming Angela Boomsma to the Alzein Pediatrics family! We are so pleased she has joined us!