Technology makes life so much easier! You use apps every day to find your way, take photos, play music, read the news and so much more. 
At Alzein Pediatrics, the technology we offer helps you stay on track with your child's health, makes record-keeping simple, and makes appointments easier!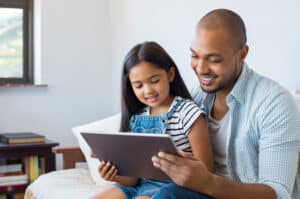 We've just rolled out our newest technology tool, Chadis! Know all those forms you have to fill out by hand at your child's wellness appointments, citing physical, emotional, and intellectual milestones. It's hundreds of pages by the time your child is 5 years old – 51 pages just in the first year alone! 
Now with Chadis, you'll receive a notification about two weeks before your child's scheduled appointment. You'll follow the link on your smartphone, tablet, or computer and simply click to enter your child's developmental milestones. Chadis is interfaced with our healow app, your child's patient portal, so the software automatically and immediately adds your child's updated information to their medical records, giving all of our healthcare providers instant access to your child's latest progress. This is all completed securely and safely, adding another layer of protection to your child's health information. 
Forgot to complete the forms before you arrived? While it's much easier to have this information before your child's appointment time, you can also complete them in our office on our iPads.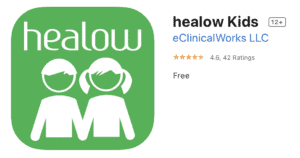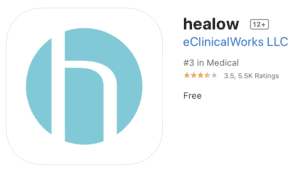 Our patient families love the healow apps, connecting you to our patient portal to schedule appointments, check test results, and message your providers. You may not know everything healow can do, which is astounding. You can read more about healow by clicking here. 
Your healow app will help:
Track weight and height 
Track developmental milestones
Inform about immunizations, 
Confirm medicine dosing for the weight and age of your child
Potty training
Record allergies
Healow also has timers for brushing teeth, limiting screen time, and preventing sunburns! You'll find healthy eating tips, and information about developmental milestones that can seem worrying but are actually normal and help with keeping your kids as active as possible. 
When your child is under the age of 13, download the green healow Kids app. If they are over 13, you'll want the blue healow app.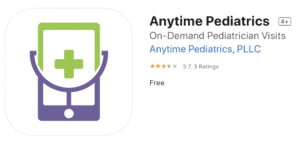 Our telehealth technology helps you connect with your healthcare provider from the comfort of your home on your smartphone, computer, or tablet. These real-time appointments are conducted with your own trusted healthcare provider using our Anytime Pediatrics app, FaceTime, or Zoom. Your provider will ask questions, evaluate, diagnose and treat your child. Telehealth appointments are perfect for:
Follow up appointments
Reviewing test results with your healthcare provider
Low-grade fevers
Rashes 
Nutrition questions
Behavioral Health 
Developmental questions
And so much more!
You must register with us, download the Anytime Pediatrics app and make an appointment. To learn more about telehealth and download the app, click here. You can also call our office to request a FaceTime or Zoom call.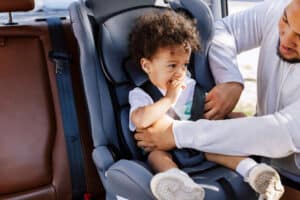 Our new text messaging service makes your appointments so much easier! When you arrive at our office, park and check in by calling us from your vehicle. We'll then send you regular text messages to keep you informed of the progress of your appointment time. You'll get updates on your provider's schedule, any delays, room vacancies, and room sanitation. Families tell us that being informed makes the occasional wait much easier for everyone in the vehicle. 
Alzein Pediatrics has always been committed to delivering the very best, leading-edge pediatric health care to our families. As technology improves, we're also dedicated to adopting tools that help make our children healthier and continuously improve your patient experience. 
Questions about any of our technology tools? Call 708-424-7600 or visit Our Evergreen Park, Oak Lawn/95th Street, and Urgent Care locations. We will be happy to explain what our tools can do and how to access them.